My contribution on the feast of St Luke is to share the only extended quote from Our Blessed Lady, the Magnificat which is found in St Luke's gospel. A close associate of St Paul, St Luke had a tremendous devotion to Our Lady and there is a consensus that says that he gained the insights into the mysteries of the Nativity from Our Lady Herself.
As well as being a physician, St Luke was also an artist and is patron saint of both. There is a tradition that says that St Luke was the first to write icons and that His main subject was the Blessed Mother. I have a beautiful mental image Our Lady patiently sitting while St Luke took sketches, all the while they talk about the mysteries of the Annunciation, Visitation, Nativity and the other events of Christ's life- rather like praying the rosary.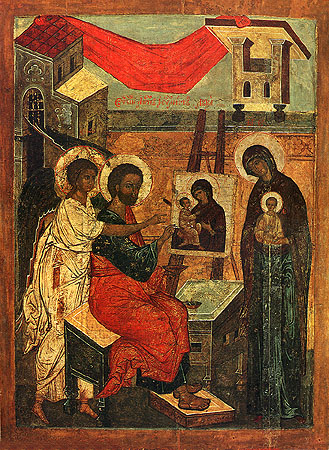 One of the most famous works attributed to St Luke is the icon of the Black Madona of Czestochowa. It is said that St Luke painted it onto a cedar table from the Holy House in Nazareth and that St Helen discovered it during her time in the Holy Land.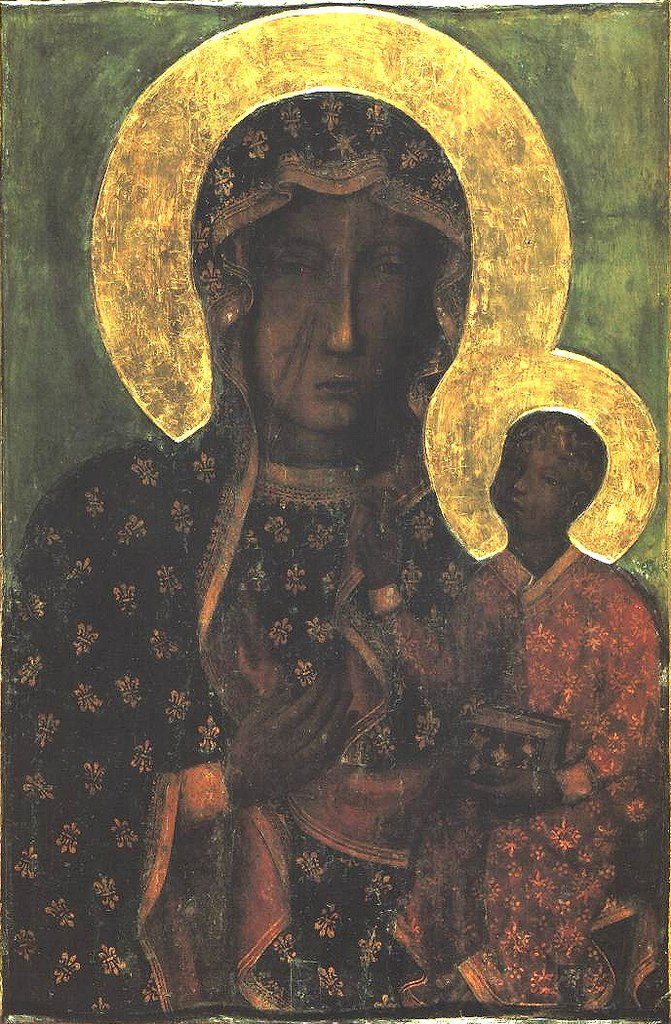 So today, on his feast day, I share the song of thanksgiving that our Lady sang at the Visitation. This setting is by the Spanish oratorian priest composer Fr Thomas Luis de Victoria, on the sixth tone.
Magníficat ánima mea Dóminum.
Et exultávit spíritus meus: in Deo salutári meo.
Quia respéxit humilitátem ancíllae suae:
Ecce enim ex hoc beátam me dicent omnes generatiónes.
Quia fécit mihi mágna qui pótens est: et sánctum nómen eius.
Et misericórdia eius in progénies et progénies timéntibus eum.
Fécit poténtiam in bráchio suo: dispérsit supérbos mente cordis sui.
Depósuit poténtes de sede: et exaltávit húmiles.
Esuriéntes implévit bonis: et dívites dimísit inánes.
Suscépit Ísrael púerum suum: recordátus misericórdiae suae.
Sicut locútus est ad patres nostros: Ábraham, et sémini eius in saecula.
Glória Patri, et Fílio, et Spirítui Sancto,
Sicut erat in princípio, et nunc, et semper, et in sæcula sæculórum. Amen.
My soul doth magnify the Lord.
And my spirit hath rejoiced in God my Savior.
Because He hath regarded the humility of His slave:
For behold from henceforth all generations shall call me blessed.
Because He that is mighty hath done great things to me; and holy is His name.
And His mercy is from generation unto generations, to them that fear Him.
He hath shewed might in His arm: He hath scattered the proud in the conceit of their heart.
He hath put down the mighty from their seat, and hath exalted the humble.
He hath filled the hungry with good things; and the rich He hath sent empty away.
He hath received Israel His servant, being mindful of His mercy:
As He spoke to our fathers, to Abraham and to his seed for ever.
Glory be the Father, and to the Son, and to the Holy Spirit,
As it was in the beginning, is now, and ever shall be, forever and ever, Amen